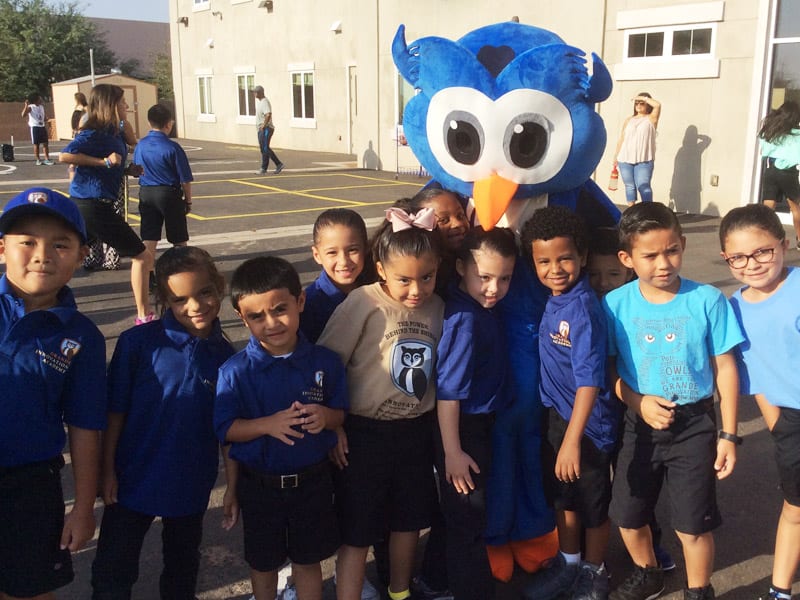 Contact the office for an enrollment packet, complete the full packet and return it to the front office with the following documents:
Photo ID of Parent/Guardian
Verification of identity/age with one of the following:

A certified copy of the student's birth certificate or
other reliable proof of the student's identity and age, including the pupil's baptism certificate, an application for a social security number or the original school registration records, and an affidavit explaining the inability to provide a copy of the birth certificate, or
A letter from the authorized representative of an agency having custody of the student pursuant to A.R.S., Title 8, Chapter 2 certifying that the student has been placed in the custody of the agency as prescribed by law. (A.R.S. §15-828(A))

Immunization Records
Proof of Residency
Custody Paperwork, if applicable.
Our Open Enrollment period is NOT first-come, first-served. If for any grade level, the number of applicants exceeds the number of openings, there will be a lottery to determine enrollment and waitlist numbers. Only applications submitted during the OPEN ENROLLMENT PERIOD are included within that lottery pool. Open enrollment will run from December to January. The lottery will be held in February and results will be available soon after.
When your applications reaches the top of the list a spot becomes available to you, the school will contact you immediately.
It is not possible for us to determine your child's chances of being offered a spot. Once our classes are full, any spots that open up are the result of student withdrawals. Although we do typically see a number of spots open up before the start of school, we have no way of knowing in which grades spots will open up or how many spots will become available.
It is possible you may move up or down on the list. Don't be too worried if you move down a few spots; this occasionally happens. For example, a 1st grade student is called from the waitlist because someone declined a spot. The 1st grader has a sibling who is #50 on the waitlist for 3rd grade. This sibling must (by law) be given "sibling preference," so she moves up to the top of the 3rd grade waitlist (or near the top; there may be other siblings ahead of her). Therefore, if your 3rd grade child had started at #49, s/he will now be bumped down to #50.
1 See A.R.S. § 15-184(J).
2 See A.R.S. §§ 15-828, -872.
Take the first step in enrolling your child at the Grande Innovation Academy by submitting the form below.
Once we receive your application submission, our enrollment coordinator will contact you by phone to provide more information and discuss the next steps of the enrollment process.
Applications must be turned in within our Open Enrollment period to be eligible to enter into the lottery. Open Enrollment takes place online. Applications received after the Open Enrollment deadline will be processed on a first-come, first-served basis behind applications received during the open enrollment period. Once your child has been accepted, our office will notify you, and you will receive a registration packet.